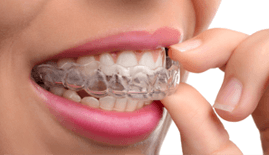 At Remarkable Smiles Orthodontics, we understand the value that orthodontic treatment can have on our patients throughout Mission Viejo, CA and the rest of Southern California. Braces/Invisalign can offer numerous benefits to patients of all ages, aside from just providing straighter teeth. Consider orthodontic treatment for you or your loved one, if you are located or near Mission, Viejo CA or the surrounding areas!
FOR NEW PATIENTS: TO RECEIVE THIS OFFER PLEASE CALL – (949) 201-1739
Traditional metal braces – most common type that is made up of high grade stainless steel brackets with wires and rubberbands.
Clear (ceramic) braces – made of the same components as traditional braces except with translucent ceramic brackets to be more aesthetically pleasing.
Self-ligating braces – made of the same components as traditional braces, this option eliminates the use of elastics.
Invisalign – sets of clear aligners that are interchanged in gradual increments. They are removable and virtually invisible!
Lingual braces – hidden behind the teeth and therefore "invisible" when you smile. Lingual braces are customized to match the shape of your teeth, so the metal appliances are created uniquely for you.
What Is Invisalign?
Invisalign is virtually invisible, and provides a great way to straighten your teeth as well as get the amazing smile you deserve! It uses 3D imaging technology to create custom-made clear aligner trays that gradually align your teeth little by little. These aligners are worn for about two weeks before being replaced by the next in the series until the final position of your teeth is achieved. Treatment time is determined by the severity of your case, so Dr. Rashidi will help you.
Braces and Invisalign Near Mission Viejo, CA
Dr. Rashidi and the team at Remarkable Smiles Orthodontics are experts in Braces AND Invisalign. If you have any questions related to braces, clear braces, Invisalign or Invisalign Teen in Mission Viejo CA or Orange County CA or would like to schedule a complimentary consultation with Dr. Rashidi contact us at (949) 201-1739.
PLEASE CALL NOW FOR THIS OFFER – (949) 201-1739