Orthodontist in Laguna Niguel, Braces, Invisalign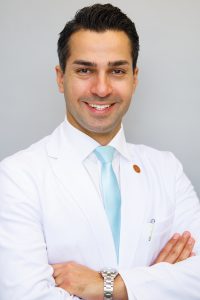 Meet Dr. Mark Rashidi
Dr. Rashidi is the head orthodontist at Remarkable Smiles who began his years of experience by treating some of the most demanding orthodontic cases in a hospital-based orthodontic training program. He has a doctorate in dental surgery at the USC School of Dentistry and a Dual Advanced Specialty Certificate in Orthopedics and Dentofacial Orthopedics from the Roseman University of Health Sciences.
Types of Braces
Remarkable Smiles specializes in braces such as Traditional Metal Braces, Ceramic Braces, and clear braces, such as Lingual (Behind the Teeth) Braces and Invisible (Clear) Aligners, such as Invisalign and Invisalign Teen. Remarkable Smiles also offers other Orthodontic Appliances for issues such as sleep apnea and bruxism.
What Sets Us Apart
Dr. Rashidi and his team are passionate about their patients' smiles and are committed to using state-of-the-art technology and treatment methods for effective, satisfactory treatment. They treat patients of all ages in Laguna Niguel CA and the surrounding areas.
Feel free to call or text us at 949-244-6295 or click here to schedule a complimentary consultation.
Welcome to Remarkable Smiles, Orthodontist for Laguna Niguel CA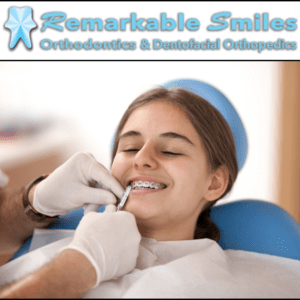 At Remarkable Smiles, we want you to have a smile you love because it looks great and feels great. Furthermore, we want you to feel just as joyful about visiting our offices, where you'll be treated just like family. We strive to provide a friendly, family-oriented atmosphere where you'll always feel welcome when coming back for your next treatment.
Our staff members are trained to ensure you have the best customer service possible. We want your visit to be an experience you'll want to share with your family and friends. We hope that our innovative treatment combined and our unparalleled customer service will make your experience at Remarkable Smiles the best part of your day!
Dr. Mark Rashidi will put his years of experience to use while ensuring his patients get the perfect type of treatment for their needs. He has treated thousands of patients with traditional methods, along with modern brace types such as Harmony Braces (customized braces placed behind your teeth), Invisalign, and Invisalign Teen aligners. He'll help you choose the right treatment option for the smile of a lifetime! We look forward to welcoming you to the Remarkable Smiles Orthodontics family!
If you or a loved one is in need of clear braces. Invisalign or Invisalign Teen clear aligners, or an orthodontist in Laguna Niguel, CA, please contact us at 949-770-8011 or click here to schedule a complimentary consultation.