Invisalign vs Traditional Metal Braces: Which Should You Choose?
We all want a beautiful, healthy smile and some of us are born with it. But the rest of us may need to see a dentist or orthodontist in order to get that perfect smile. Getting a beautiful, healthy smile is priceless. You'll feel more confident and ready to tackle any challenge. One of the tried-and-true methods of getting perfectly straight teeth is braces. It was only a few years ago that we didn't have much in the way of choices but today, there are several amazing methods available in various prices ranges.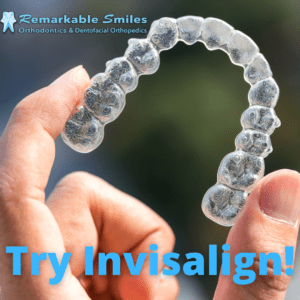 Concerned with the Budget?
If you have budgetary issues, then you might want to stay with traditional metal braces. This is the most cost-effective way to get a great smile. This type of braces usually cost anywhere between $3,000 and $6,000 depending on your specific needs, your age and some other factors. The orthodontist will thoroughly examine your mouth and teeth, then speak to you about what you feel are the biggest problems. Once you're ready to move forward, the orthodontist will place metal devices on your teeth that are held together with wires. These are tightened down so they push your teeth in the right direction. This method takes about two years.
Invisalign
This is the latest in comfort for those who wear braces. The orthodontist will take a mold of your mouth, then produce a plastic-like retainer that you'll wear for about six weeks. When you go in for your check-up, the orthodontist examines your teeth to make sure they're moving in the right direction. At this time, you'll get a new retainer that continues to force your teeth in the right direction. This goes on for about 24 months though the time may vary based on your situation. This is one of the most expensive options at around $8,000.
Ceramic & Porcelain Braces
These are also a popular choice. They are more expensive but can sometimes produce faster results. They're more fragile than Invisalign and will break more easily. That means extra trips to see the orthodontist. They're available in a wide range of colors so you can basically get anything you like and some people make a fashion statement with their ceramic braces. They have a subtle appearance and resist stains.
Do it today!
When it comes to dental issues, the sooner you take action, the better. Over time, your teeth can move even more, making the cost and time of treatment longer. All it takes is one phone call to get the process started. You'll be on your way in no time to a perfect smile.
—————————————————-
Remarkable Smiles and Dr. Mark Rashidi in Mission Viejo can help with all your orthodontist needs. They offer traditional metal braces, ceramic braces, porcelain braces and Invisalign. This practice serves Foothill Ranch, Dana Point, Lake Forest, Laguna Hills, Laguna Niguel, Irvine and other areas.